FOLGERS | SOCIAL
Online Content, Digital Media
To breathe new life into Folgers' social channels, my art director and I concepted weekly posts that not only highlighted their product offerings, but also told an emotionally richer, more inspiring story that laddered up to our unifying theme: one cup at a time.
With a limited budget, we created, shot and captioned content that would relate to both our current and new consumers, and their daily lives and struggles in a more authentic manner.
FOLGERS | JINGLE CAMPAIGN
Integrated Social Campaign
PROBLEM:
Folgers wanted to create an interactive ecosystem for their jingle competition.
SOLUTION:
We developed a integrated digital and mobile experience where fans could easily log in to individual accounts, which allowed them to submit their own renditions of the famous jingle, return (everyday) to vote for a winner, be entered for a prize, and easily share their experience on social.
WEBSITE | Updated the Folgers.com homepage to champion Jingle Contest as the centerpiece of the browsing experience by showcasing past winners and finalists, prizes and to sign-up, entering and voting page.
MOBILE | Constructed mobile interface for users to easily watch, share and submit videos, vote for their favorites and share and share on social.
VIDEOS | To enrich experience, we created spots and sizzle reels featuring country star Chris Young calling for entries and teasing the winner announcement, spotlighting the finalists and their behind-the-scenes meetings in the studio.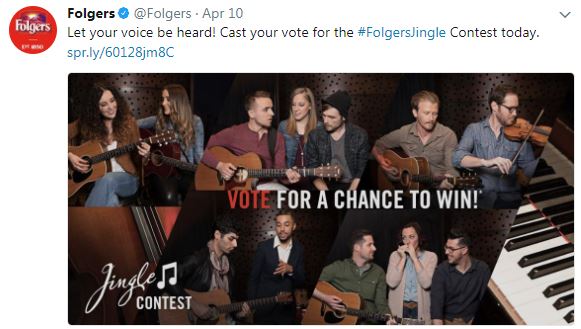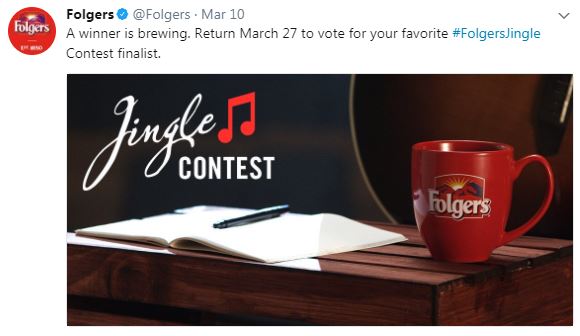 SOCIAL | Repurposed assets to create a series of social CTAs on Facebook and Twitter, creating campaign buzz on entering, daily voting and winner announcement.